Philippines: Duterte killing claim 'should not be taken literally'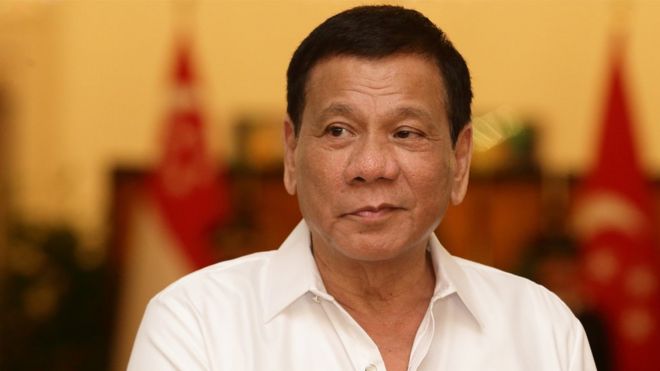 Image copyrightGETTY IMAGESImage captionMr Duterte is to be taken "seriously, but not literally"
An apparent admission by the president of the Philippines that he had killed criminal suspects when he was mayor of Davao should not be "taken literally", his spokesman has said.
Martin Andanar told the BBC that Mr Duterte was "not a killer".
The president's admission sparked calls for his impeachment from opposition leaders and rights groups.
It was the latest in a series of controversial claims by Mr Duterte since he became president.
Mr Andanar said: "He is not a killer. That is the style of the president, ever since he was a mayor he would talk that way.
"We do not take all of those statements literally. We take it seriously, but we don't take it literally."
'I used to do it personally'
Appearing to admit having carried out extra-judicial killings, Mr Duterte said earlier this week: "I used to do it personally. Just to show to the guys [police] that if I can do it why can't you," he said.
"And I'd go around in Davao with a motorcycle, with a big bike around, and I would just patrol the streets, looking for trouble also. I was really looking for a confrontation so I could kill."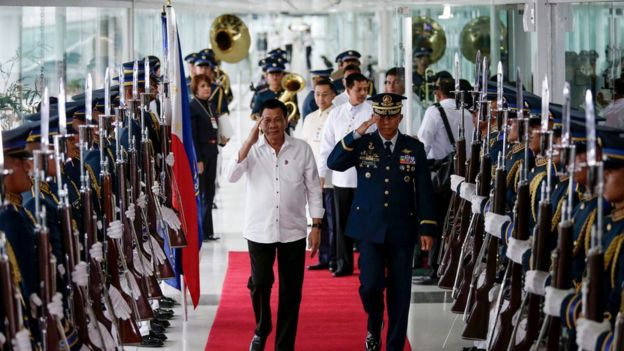 Image copyrightEPAImage captionMr Duterte made the speech before leaving the country for visits to Cambodia and Singapore
Mr Duterte was mayor of the southern city of Davao for two decades, earning a reputation for cutting crime, and criticism for allegedly supporting death squads.
He made a similar admission during his time as mayor, telling a crowd that he had executed a group of men suspected of kidnapping.
Senator Leila de Lima, a staunch critic of Mr Duterte, has said his admission could be a ground for impeachment.
Drug use?
Mr Andanar also dismissed claims that Mr Duterte was suffering the side effects of Fentanyl, a powerful painkiller which can cause confusion, anxiety and even hallucinations.
Mr Duterte admitted to using the drug, saying he had migraines and issues with his spine.
"[Mr Duterte] is healthy," Mr Andanar said. "We've seen him work till the wee hours of the morning. He is in a hurry, [and is] very impatient because our country has been dragged down to the toilet."
Nearly 6,000 people are said to have been killed by police, vigilantes and mercenaries in the Philippines since Mr Duterte launched a drug war after being elected in May.