'Ahok': Jakarta governor faces blasphemy trial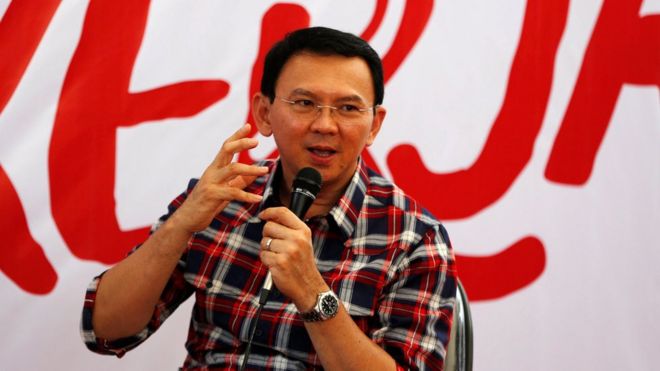 Image copyrightREUTERSImage captionMr Purnama is seeking a second term as governor of Jakarta
The blasphemy trial of Jakarta's governor, a Christian of Chinese descent, is set to begin amid tight security in the Indonesian capital.
Basuki Tjahaja Purnama, popularly known by his Chinese name Ahok, is accused of insulting the Koran.
Mr Purnama has apologised for the offending remarks but denies committing blasphemy, which carries a maximum five year jail sentence.
The case is being seen as a test of religious tolerance in Indonesia.
Mr Purnama is the city's first non-Muslim governor in 50 years and there are some who fear the trial signals the growing influence of hardliners in the world's largest Muslim majority nation.
In November, about 100,000 hardline Muslims took to the streets demanding his arrest in a rally that turned violent.
Supporters and detractors of Mr Purnama are expected to gather in their thousands near the North Jakarta District Court, where five judges will sit on the trial. Hundreds of police are expected to be deployed.
Who is 'Ahok'?
A businessman who became Jakarta's deputy governor, Mr Purnama was made governor when his predecessor Joko Widodo became president in 2014.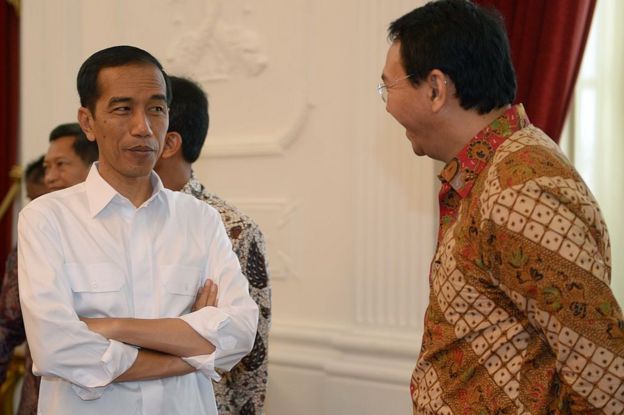 Image copyrightAFPImage captionAs deputy governor, Mr Purnama (right) automatically became governor when his predecessor Joko Widodo (left) became president.
At the time, the hardline Islamic Defenders Front (FPI) said it did not want him to succeed Mr Widodo, arguing a Christian should not govern a Muslim-majority city. They have played a major role in the latest protests against the governor.
He is seen as a political independent and is popular for his tough stance against corruption. As governor, he put his focus firmly on improving public transport and access to healthcare and education.
Elections for Jakarta's governorship are due in February 2017 and Mr Purnama is among several candidates in contention.
Read more: Who is Jakarta's non-Muslim governor?
What are the allegations?
While campaigning for the elections in September, Mr Purnama made a speech where he said that Islamic groups who were using a Koranic verse to lobby against him were deceiving voters.
The verse is interpreted by some as prohibiting Muslims from living under the leadership of a non-Muslim.
Islamic groups said he had criticised the Koran and lodged complaints with police. Mr Purnama apologised but denied blasphemy.
His supporters say that a video of the event which was widely circulated had been edited and subtitled to make it appear as if he was criticising the verse, rather than those who invoked it.
The president promised a transparent investigation and police officially declared Mr Purnama a suspect on 16 November.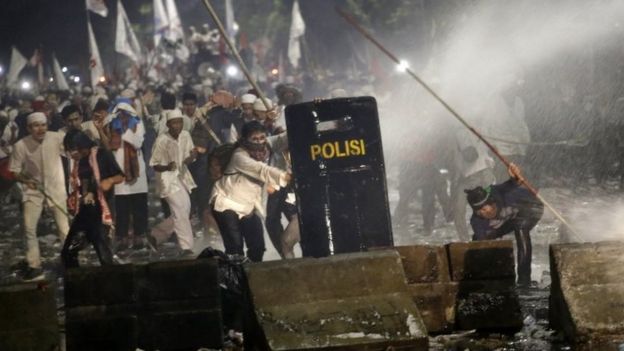 Image copyrightAPImage captionProtesters and police clashed late in the day during the rally
What is the significance of a blasphemy charge?
Although Indonesia's constitution guarantees freedom of religion, the country only recognises six religions and has tough penalties for blasphemy against any of them.
In practice, observers say the laws are often used to defend the Sunni majority, with Shia Muslims and other minority groups often the target of prosecutions.
Atheists too have been prosecuted, with one man sentenced to two-and-a-half years in jail for saying God does not exist on Facebook in 2012.
Is there more to it?
President Widodo has blamed "political actors" for trying to take advantage of the furore.
The case has benefitted Mr Purnama's rivals in the election race, which he was seen as the frontrunner before the blasphemy allegations.
Some have suggested the case also shows that Indonesia, historically a moderate Muslim nation, is becoming more radical.
However, Indonesia's largest Islamic group, Nahdlatul Ulama (NU), told its members not to take part in the anti-Ahok rallies.
Others fear that the move against Mr Purnama is about his ethnicity, although this is denied by protest organisers.
In 1998, a wave of anti-Chinese sentiment led to mobs looting and burning Chinese-owned shops and houses, leaving more than 1,000 people dead.
Christians represent around 10% of the country's roughly 250 million people, and ethnic Chinese about 1%.